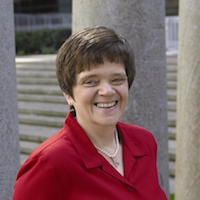 Professor Christine Miaskowski
Professor Christine Miaskowski holds appointments as Sharon A. Lamb Endowed Chair in Symptom Management Research in the School of Nursing and Co-Director of Research Centre for Symptom Management at University of California, San Francisco. She is recognised internationally as an expert in pain and symptom management research and has received numerous honours and awards throughout her career in recognition of her outstanding research and service in her disciplinary areas. She is the recipient of the prestigious Oncology Nursing Society/Roche Distinguished Service Award, the highest award presented by the Oncology Nursing Society in the United States.
Christine was the inaugural nursing recipient to be awarded the Wilbert E. Fordyce Clinical Investigator Award and in 2010, the American Cancer Society Clinical Research Professorship. In 2015, she was inducted into Sigma Theta Tau International Researcher Hall of Fame. Currently, Prof Miaskowski's research team have funding worth over $50 million (US) to conduct research across a broad range of areas, including symptom management, pain management, symptom clusters, genetics, epigenetics and more. Prof Miaskowski has published close to 500 refereed publications, principally published in the top-ranking Nursing and Oncology journals.