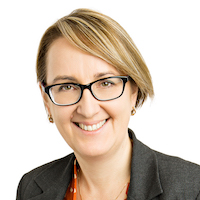 Professor Bogda Koczwara
Professor Bogda Koczwara is a medical oncologist at the Flinders Centre for Innovation in Cancer in Adelaide and the National Breast Cancer Foundation Fellow. Her clinical interests revolve around management of breast cancer, survivorship care, psycho-oncology and supportive care and she has a particular interest in strengthening of the interface between specialist and primary care for cancer patients especially in rural Australia.
Professor Koczwara leads the Survivorship Program at the Flinders Centre for Innovation in Cancer. She is the Lead in Survivorship for the South Australian Health and Medical Research Institute Comprehensive Cancer Consortium and she leads the development and implementation of the survivorship framework for cancer patients in South Australia.
Professor Koczwara is the past President of the Clinical Oncology Society of Australia (COSA), the peak cancer professional organisation in Australia and the past president of the Medical Oncology Group of Australia (MOGA), the national professional organisation of medical oncologists. She is the initiator and the immediate past Chair the Australia Asia Pacific Clinical Oncology Research Development, a collaborative of international cancer organisations aimed at improving cancer research capacity in Australia and Asia Pacific.
Professor Koczwara has been recognized as a Member of the Order of Australia in January 2015 for her services to oncology through clinical practice, education and research and through a range of professional organisations.