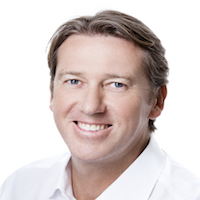 Mr Glenn McGrath
GLENN MCGRATH AM - CO-FOUNDER & PRESIDENT
Following a personal experience with breast cancer, Jane and Glenn McGrath decided to launch the McGrath Foundation in September 2005 to do what they could to help families going through breast cancer.
Leveraging Glenn's profile as an international cricketer and learning from Jane's personal experience, the Foundation was established to place breast care nurses across the country and to increase breast awareness.
Upon Jane's passing in June 2008, Glenn assumed the role of Chairman and played an integral role in both managing the Board and engaging the community behind the Foundation's activities.
In September 2013, after five years as Chairman, Glenn assumed the role of President of the Board. In this role, Glenn is committed to the Foundation's future success, upholding the vision for the Foundation and representing the Foundation through major initiatives and connecting with the business world and broader community. Glenn participates on a voluntary basis; he receives no salary or payment for his support.
NSW Australian of the Year in 2008, Glenn is now recognised as an outspoken advocate for improved services for breast cancer and greater education for younger women around breast awareness.